Introduction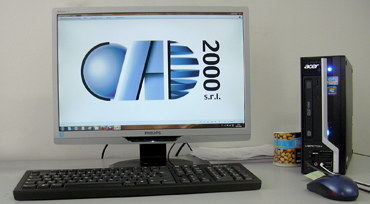 The CAD2000 s.r.l is a legally company constituted in 1992 as SnC, later turned into SrL in December 1999.
CAD2000 S.r.L. performs activities' of:
· design of civil and structural concrete;
· evelopment executive structural elaborate and reinforcement;
· sfeasibility studies;
· reliefs and refunds graphic;
· operations on land.
SHAREHOLDERS AND DIRECTORS:
Surv. Marco De Lucia
Eng. Fabio Torri

Offered Services
Civil engineering

General lay-out

Assembly

Detailed drawings

Bill of quantity

Technical support
Description
The areas mainly affected by the works designed by us are:
- chemical and petrochemical
- oil
- metallurgical and steel
- food
- water treatment
- housing and commercial
- roads'
- rail (high-speed and metro)
- infrastructure (Mose System - New interventions to safeguarding of Venice)


Our structure 'that they can cope with different design requirements relating to:
- general studies, lay-out
- architectural
- reinforced cocrete structures and steel structures for civil and industrial buildings
- various works in reinforced cocrete structures and steel structures for industrial plants
- roads with related works (overpasses, underpasses, siphons etc.)